Social Practice
In 2019 I was selected for a residency with the American Arts Incubator Exchange, and the country who chose me was Nepal. This residency is a cultural exchange, whose mode of exchange is a series of workshops developed around a specific theme. For Nepal the theme was women's empowerment.
I had more than 6 months to prepare for this program, and so I had a lot of time to think about and research the topic of women's empowerment. I spent a lot of time in the Green Library on Stanford campus, reading about Nepal. I also began, for the first time, to study the history of women's empowerment in my own community, culture, and country.
American Arts Incubator - Nepal (2019)
Nepal Communitere hosted the American Arts Incubator Exchange in Nepal. They are an innovation hub, entrepreneurship incubator, and maker space that supports a progressive vision for Kathmandu and greater Nepal.
You can find out more about Nepal Communitere at https://nepal.communitere.org/
Weaving Emotions: All Skins are Beautiful
The group who chose Culture and Gender Fluidity as their project created this lovely tapestry as a prototype to test various loom building methods. This piece was shown during the open house to encourage people to participate in the project.
Weaving Emotions visitor experience
Photo by Jyoti Shrestha
The group who chose the theme of Women's Empowerment in Culture focused on gender fluidity, and how women are expected to follow certain social norms that don't always fit. Visitors were invited to add their own voice to the fabric of the conversation by choosing a color based on their own experiences around gender norms.
This project combined traditional weaving technologies with digital fabrication to produce narrative tapestries, weaving tools and take-home artifacts.
The group who chose Women's Empowerment in the home focused on helping give voice to choices that women want to make for themselves with their families and intimate partners.
The project began with a survey to friends and family, asking what conversations they need to have in their personal lives. Answers were then summarized and made gender neutral. Visitors were invited to chose a pre-printed statement or to make their own, and to share in whatever way they felt comfortable, be it on social media or just a printed copy for their own pockets.
Inclusive Chiya Pasal and board game
The team focusing on Women's Empowerment in career designed a place where women could go to network, socialize, and unwind at the end of the working day. In Nepal, women may be chastised for spending time outside the home that doesn't involve work, while men gather at Chiya Pasals to drink tea and play board games. So they set out to change that by making a chiya pasal oriented towards women, complete with a board game that is based on women's experiences.
Board game was designed and fabricated with digital tools, game pieces were 3D printed.
You-Yoni and being reborn
Kathmandu is known for its temples, shrines, and religious symbolism that permeates the visual landscape everywhere you look, and the yoni is one of the more common icons. And yet women's sexuality is a taboo subject, and many women don't have access to menstrual hygiene products and lack information about their own sexual and reproductive health. You-yoni set out to change that, and created a safe space to for visitors to ask questions and get information about women's sexual and reproductive health.
In this photo, the team is installing the vagina doorway, where visitors who pass through are reborn into a world where women's sexual and reproductive health are no longer taboo.
Rachana and the Yoni booklet
My lovely assistant Rachana, who works at NC and ran all the behind the scenes spreadsheets and office work, shows off the You-Yoni booklet on women's reproductive care. Booklets were designed using Illustrator and the Cricut cutting machine, then sent to a print shop for final production. These were handed out to visitors along with yoni badges and stickers, and were part of a display of different products for women, including menstrual cups, feminine urinary devices, pads and tampons.
l lead each day of the workshop in roundtable discussions with the question, "What does empowerment look like to you?" Some stories were difficult, others inspiring, and I deliberately fostered a safe and inclusive space so the participants and I could co-create a supportive community together.
How do you create safe space? I started the workshop by asking the participants to help me develop a list of rules for the training hall. One was to honor other people's privacy and to not share stories of others without their permission. Another was to ask permission before continuing a discussion with someone outside the circle. We also engaged in exercises where we were able to share personal stories and join in a circle of trust.
Its not easy to build trust on such a short notice, but what amazed me was that not only were we able to do it, but each of the teams then extended our safe community to any member of the public who participated in their projects.
Ideation on Women's Empowerment
During the ideation phase of the workshop, I started every day with the question of "What does women's empowerment look like to you?"
While great progress has been made in the last two generations of Nepali women, they are still struggling with choice- about who they marry and if they marry at all, to stay in the workplace after having children, how they spend their free time, and access to true equality compared to the resources and social rules for men.
Connecting Local Vendors with Artists and Makers
Photo courtesy of Storytellers Production and Yubin Pujari.
As we reached consensus on places where women need more agency, such as who they marry, access to education, and how they spend their time, I shifted the workshop to enhancing the artistic skills that participants already had to learning tools with a specific project in mind. Here we are visiting the digital manufacturing company De'sign and Print to see CNC machines, laser cutters, and vinyl cut and print machines.
On the first day that participants chose their teams, we had them go through a rapid ideation and team pitching session, where guest mentors listened and gave feedback. Here the team focusing on Women's Empowerment for personal choices presents their early ideas on how to convey their message to the public for the open house.
Team dynamics and ideation sessions
The team focusing on Women's Empowerment in their Careers is brainstorming ideas on the first day of project development. This photo is one of my favorite from the workshop, as it captures Santona (top right) in a moment with Sristi (bottom right) of exchange that demonstrates the warmth of their personalities and the passion they have for advancing opportunities for women.
Rapid prototyping with technology
Yajaswi and Shivangi in the process of making the Desire masks with a cutting machine. Here they were testing the different types of Nepali hand-made paper to see how the machine cut it and whether or not the inks would bleed.
These board game pieces were designed with Fusion 360 software and 3D printed using an UpBox printer, which was donated to Nepal Communitere by Zenertech Industries in Kathmandu.
My lovely assistant Padmakshi
I was assisted during the program by Padmakshi, who took care of everything from coordinating with the Embassy, leading some of the exercises, to arranging a taxi me on days when I was too pooped to walk home.
Priya assisted me in the production side of the workshop, where her knowledge of local materials and vendors, experience in fabrication on a tight deadline, and her natural rapport with the participants made their visions into reality. Here she has googled a vendor for lumber and is sharing with Sudah and Sarina from Weaving Emotions group.
You can find out more about MakerKT at http://www.makerkt.com/
Ben on digital fabrication
Here Ben demonstrates to the group how to use the 3D printer. Ben's input helped us build a digital fabrication training with minimal resources, fixed up the machines and made connections for field trips so participants could outsource some of the more difficult fabrications.
Bahar, Director Extraordinaire
Bahar and I celebrated our birthdays the same week, and we are the same age. I continue to be amazed by her, from her skills at team building, her wisdom about everything about environment, culture and politics, and her warm personality. Plus, the fact that she grew up in California allowed me to show up as myself and be understood within a cultural perspective.
Taking photos in the background is Aarati, the NC finance wizard.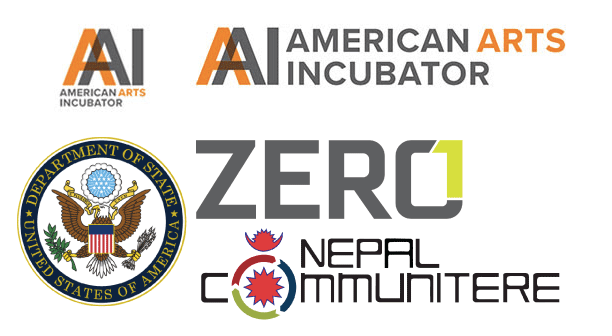 American Arts Incubator (AAI) is a creative exchange program that utilizes community-driven digital and new media art projects to instigate dialogue, build communities, bolster local economies, and further social innovation. Each incubator addresses a relevant social or environmental challenge such as economic equity, youth empowerment, gender equality, and environmental health. In spring 2019, AAI exchanges will occur in Mexico, Nepal, South Africa, South Korea, and Turkey.
AAI sends a U.S. artist abroad to collaborate with local communities in each exchange country during a month-long incubator. These creative collaborations transfer skills in art, technology, and entrepreneurship. Through digital and new media art workshops, they facilitate dialogue and explorations of the social challenge. AAI provides small grants to participants who break into teams to prototype creative projects applying workshop skills to the challenge. Each exchange culminates in an open house that showcases the prototypes and solicits public feedback. After the international incubators are complete, ZERO1 hosts one visiting international participant from each exchange country for a professional development workshop in the San Francisco Bay Area to further build participant skills.
American Arts Incubator is an initiative of the U.S. Department of State's Bureau of Educational and Cultural Affairs developed in partnership with ZERO1.
Time find out more about ZERO1, check out their website at https://zero1.org/