Ghost Highway Project
The 'Ghost Highway' is what Jennifer Berry calls Rodeo avenue and Rodeo trail, which were once one and the same until the construction of 101 severed the Sausalito peninsula and Rodeo, leaving one side an urban residential road and the other as a wildlife trail. Now any animal who tries to walk the length of the Rodeo highway becomes a ghost.
Project includes video installations, online maps, sculptural topographic maps, workshops and advocacy work. Collateral has been used to make real change in the region where Berry lives in the Bay Area, where she has helped local conservation efforts and raise awareness for the need for protection and better infrastructure for wildlife.
Urban spaces transform under the cover of darkness, from places people know as their own to those where their wild neighbors hunt, play and live their unseen lives. Here on the eastern, residential side of the Ghost Highway, nightly visits of animals adapted to urban environments such as coyotes and foxes can be seen.
Rodeo Avenue once stretched from shore to shore and was a major road for humans travelling the Sausalito peninsula. It was severed by the 101 freeway, and is now a Ghost Highway. Here on the West side one can encounter the animals of wilderness areas: such as bobcats, badgers, and puma, as well as the more adapted species such as coyotes, foxes and deer.
Hidden Cities Show, SOMarts
The theme of this show was to bring that which is hidden about the Bay Area to public attention. I was invited to explore the topic of urban wildlife as community, and so created three topographic sculptures of urban animals plus a series of videos showing vista spots where people flocked by day and animals roamed by night. This was the beginning of the Ghost Highway Project.
This 3 dimensional topographic map shows the home territory and hard boundary of this young male coyote who chose to make his home here until a car on the 280 freeway killed him. This series raises awareness of the need for wildlife corridors, even in cities like San Francisco.
This fawn creates its own 3 dimensional topographic map, showing her home range had she grown to be an adult. This fawn was only hours old when the 101 freeway through Sausalito's open space killed her. This project intends to increase awareness of the need for wildlife corridors on the 101 freeway, and since this project, Caltrans has agreed to take measures to improve conditions for wildlife and help prevent their needless death on the Ghost Highway.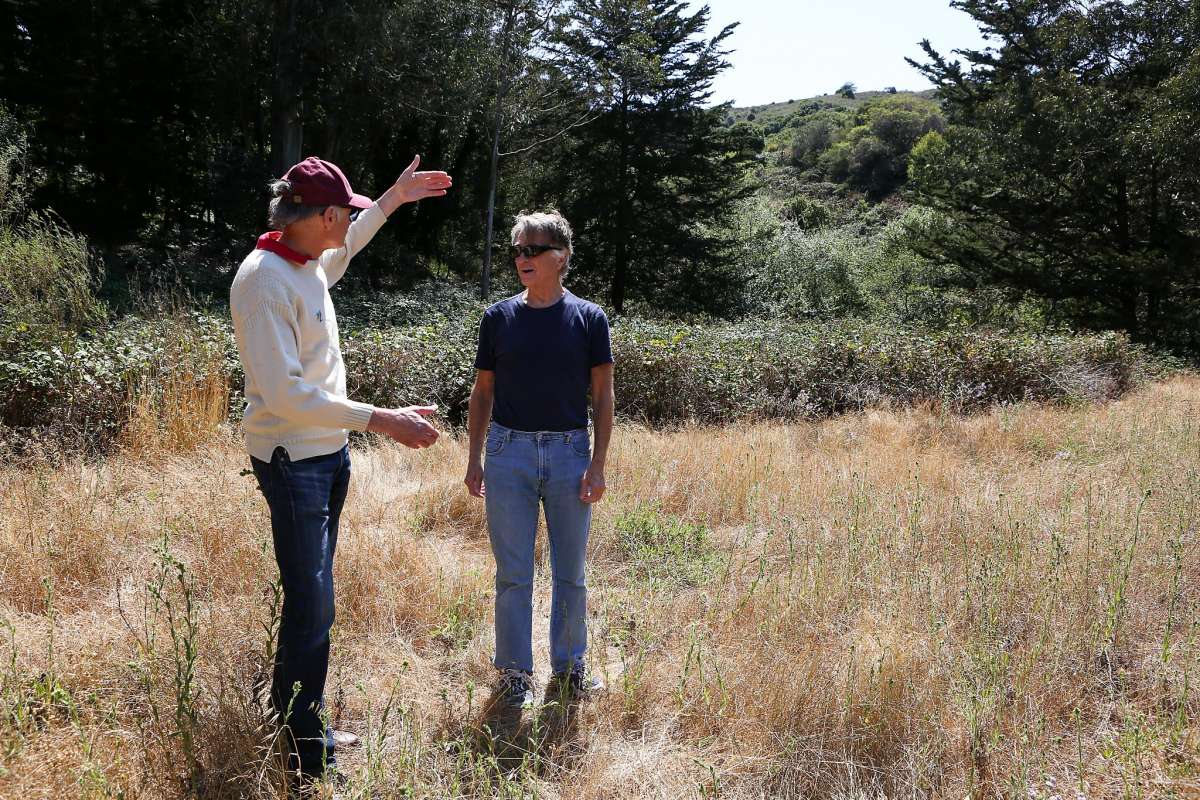 Open Space Sausalito, Saucelito Creek
There are a surprising number of species on the east side of 101, especially since it's just a narrow band of open space between the freeway and dense residential neighborhoods. Over the years, I've documented aquatic amphibians, foxes, coyotes, and even a few badgers and bobcats here. For years, I've wondered how this land could support so many animals.
That is, until a non-profit group called Open Space Sausalito (OSS) approached me to help them raise funds for a parcel they were trying to purchase to put into conservation. I conducted a field survey to write a report for the land, and it was then that I put all of the pieces together. On this little parcel there is a creek where water flows from a spring above the freeway, and the animals in my neighborhood visit it every night. It is essential to their survival. This creek was unnamed, so we decided to call it 'Saucelito Creek', the original spelling for our town, which means 'little willow' in Portuguese and signified a rich source of year-round water.
In addition to the report, I shared my Ghost Highway Project work with the public, and with this OSS was able to raise the funds to purchase the land and turn it into a wildlife refuge. I now sit on the board as their 'Biologist in Residence', working with other local non-profits and government agencies on a city-wide effort to daylight our creeks, restore habitat, and raise awareness for wildlife. OSS is also working with GGNRA and rangers from the National Parks Service in negotiation with Caltrans to widen the culvert under the freeway through which Saucelito creek runs, to allow wildlife to walk up the creek and allow safe passage under the freeway.
photo by Amy Osborne, Special To The Chronicle
Wildlife Movement map for Open Space Sausalito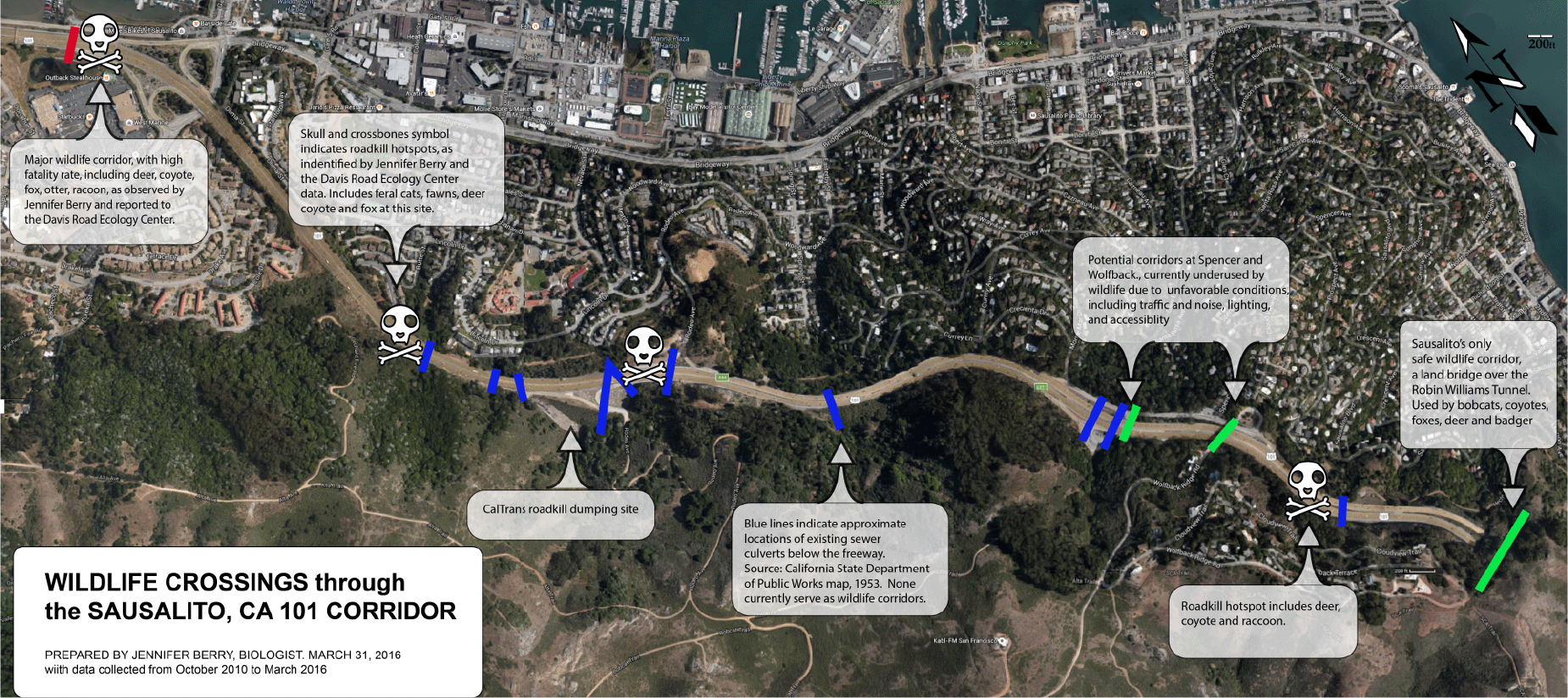 Ghost Highway: Wildlife Crossings Map
This map documents places where wildlife crossed the 101 freeway in Sausalito, indicating areas where animals cross, where they fail, and historic culverts that could be improved to allow animals to cross under the freeway. What began as a personal project to illustrate the ways in which traffic engineering often destroys communities, this map has been used by advocates when approaching CALTRANS, the California transit authority, to improve this stretch of the freeway, which has been labelled at one ten hotspots in California for roadkill by the UC Davis Road Ecology Center.
Taxidermy Workshop, Autodesk Pier 9
Other artists and scientists were invited for a workshop where I taught them how to skin animals for raw material in art projects. Participants were limited animals found as roadkill. Incidentally, participants were made of females only and included one 6 year old child, who had fun with a starling.