this is Absurd
In this ongoing series, Jennifer Berry explores the tension between human design and engineering and how nature adapts to its conditions. Berry creates works based on pattern, uniformity and repetition, then invites specific organisms into these situations to highlight how nature deviates from all our plans.
So far this project has included organisms found only in Berry's neighborhood.
Autodesk Artist in Residence Show, 2015
Bee Space is a series of collaborations created by altering native honeycomb into recognizable shapes and then reintroducing it into living bee hives. Bees reinforce the comb structurally and then begin to alter it to fit their own biological requirements.
This was the first of the series and the inspiration for 'this is Absurd'
Artificial environment for wild field mice has been created. Formal grid patternhighlights where the intent of the artist begins and where nature deviated from our expectations.
Mice step through food-safe pigment and then leave their prints on the sticky surface as they create these collaborations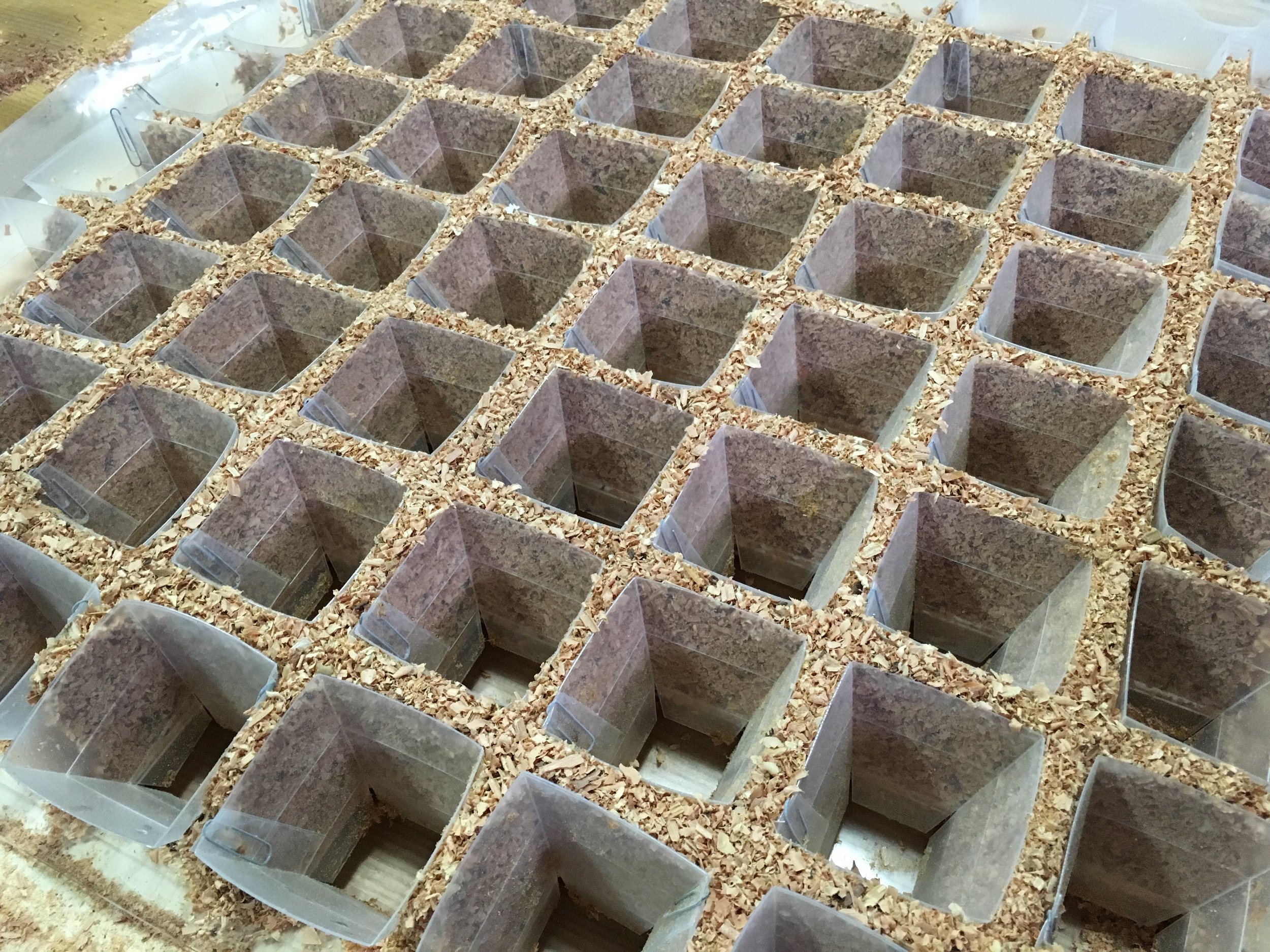 A repeating grid pattern mold has been set into the chips of hardwoods, then impregnated with the spores of reishi fungi. When reishi mycelium have completely converted wood into fungal mass, forms will be removed and fungi will be allowed to fruit, thus deviating from the minimal grid form.
Bee Space A, Homage to Albers.
When bees discover that comb has been altered, they quickly gather to reinforce the comb and then begin to change it back into a form that is more conducive to the needs of the hive
Bee Space C, an Homage to Carl
Each piece in the series calls to mind the works of past minimalist artists who explored form and repetition. This closeup shows the cells of the comb and the manner in which the bees altered the form to suit their needs.
Sculptures can be "harvested" at any point in the collaborative process. Can also be returned for bees to restore any damage incurred as audience members were encouraged to touch the fragile honey comb.
In this piece, each unit of comb was carefully cut for maximum uniformity and stacked, like the block stacking game we all know. This sculpture was left in the hive for three months, during which time the bees changes units to increase their usefulness to the needs of the hives.
As in all works in 'this is Absurd' series, uniformity and human design are set into a motion by the organisms who choose to inhabit them.
Sculpture has been "harvested", but how to discourage the bees is the difficult task.