B-Code
B-Code is a living, biological 3D printer that employs honeybees to create sculptural forms in beeswax. Honeybees developed the world's first additive manufacturing over millennia of evolution, and Berry harnesses their technology to create hive systems that enhance the natural tendencies of bees. Together they produce sculptural forms never before possible by human technology or nature alone.
B-code V3.1 in the laboratory. Experiment was concluded after three months of hive activity in this artificial environment. Bees were able to build substantial food reserves, and population continued to increase after queen mated and swarm began building comb.
For more on the methods and how-to for building this project, click here.
Handheld video of artificial hive, B-Code 3.1 with bees inside, after 3 months of being occupied. This was an initial test of version 3 to determine if a hive could successfully live in this artificial environment. For this first test, only minimal structural elements were used with no templates for how bees were to build the comb. Instead, bees were free to use the artificial hive as they would occupy a natural cavity of the same dimensions.
This video was taken on the last day of the test, as the outside structure began to fail due to the weight of the honey. Bees and comb were extracted and relocated to a traditional wooden box at the conclusion of this video.
One of four cameras deployed throughout experiment to document the building of comb, daily fluctuations in the hive population, and other activity.
These videos were taken for the initial B-code test of version 3, which ran for 3 months. This project was the culmination of an extended residency at Autodesk's Pier 9 workshop. For more details on the project and instructions on how to build your own, click here.
This was the second prototype for B-Code, an idea I had for a biological 3D printer. I'd already established that I could work as an artist in collaboration with bees, and now I wanted to find a way to "program" them to build comb in a way that they'd never do in nature, and I wanted to document their process. Bees have a lot of programming hard-wired in, such as a yes or no stimulus similar to binary code. They're one of the inspirations for cybernetics. Now I wanted to see if I could program them to "3D print" on templates that I created for them, altering their own biological B code that gives them the X Y Z coordinates for building.
B-Code was designed with the following criteria:
optimal housing for bees to regulate temperature and humidity for brood health
optimal ability to document comb building
storage and shipping: faces either flat pack or nesting
replaceable, reconfigurable assembly for adaptation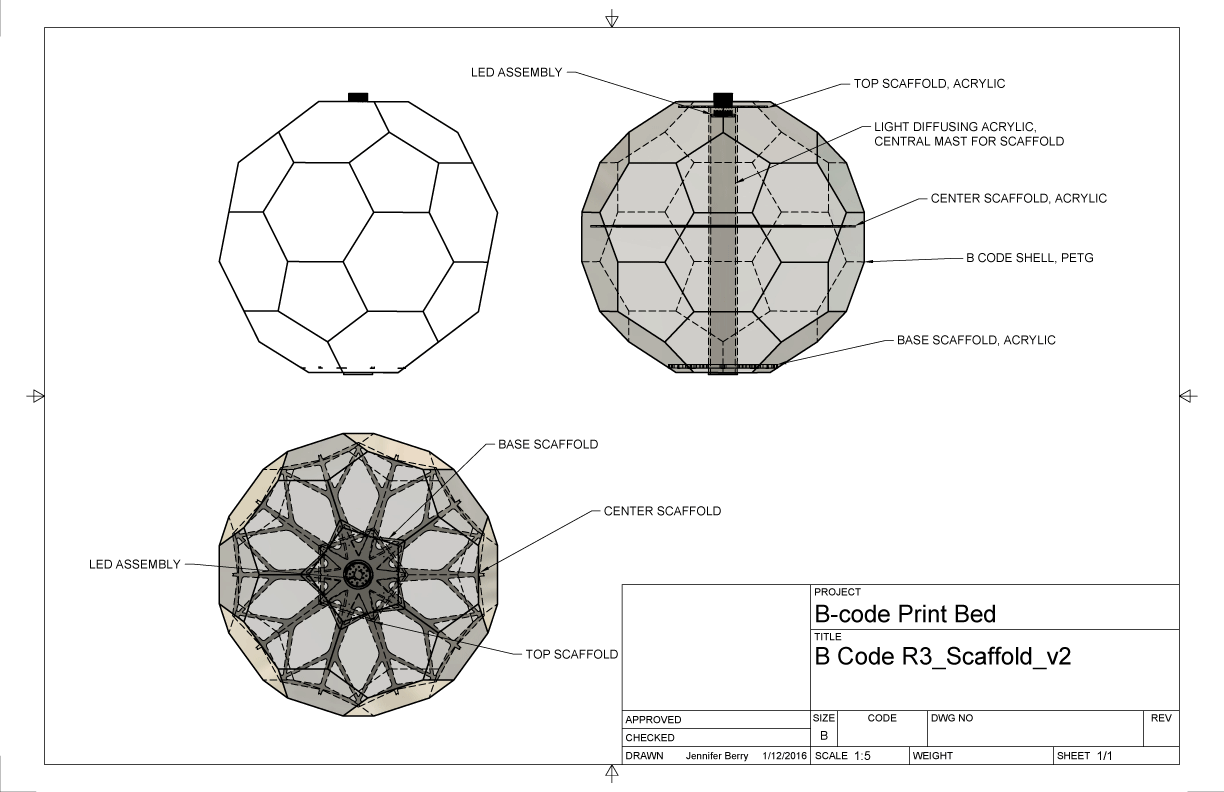 Drawing for the internal scaffolding structure inside B-Code. Designed after V3.1 was successful for 3 months but the meager structure I'd given them failed under the weight of honey.
B-Code, Version 3.2 before Bees
I'd tested the 3rd version of B-code and had established that a hive could live happily in this artificial environment. Now it was time to redeploy it with better structural elements and the 3D print template to direct the bee's build building. This composite photo illustrates how the templates and structure looked before being occupied.
B-Code, Live at the LAST Festival in San Jose, Summer 2017.
This is version 3.2, and a swarm has just been placed in the rebuilt printer. Visitors could look into the hive and watch bees at work, 3D printing their collaborative sculptures on the templates provided for them.
B-code was invited to show at Exploratorium, a science museum in San Francisco. Bees had been in version 3.2 of B-code for about a month, so still not too heavy that I couldn't safely transport them to an indoor space for a few days. During the show, the entrance for the bees was closed and bees were given supplemental honey so they didn't go hungry. In this photo, high school explainer Mary Claire leans in close to listen to the bees and feel their wingbeats on her cheek through a screened opening. I watched as people kept returning to see the bees, getting closer and closer with each visit as they felt more comfortable. Some out their noses to the mesh to smell the bees, others listened. I spent most of my time there talking about bee biology and answering the endless questions generated by this work.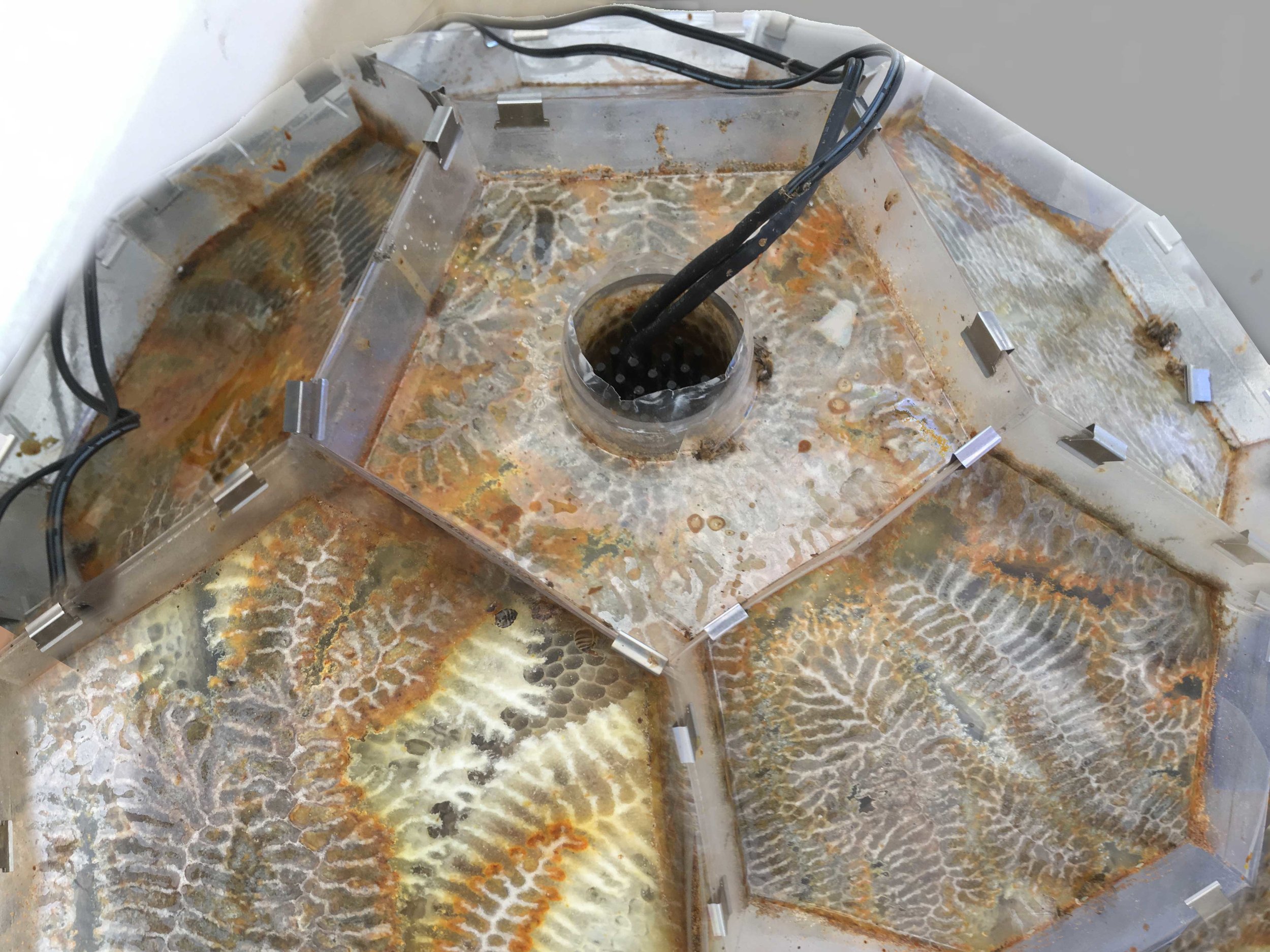 B-code is almost ready to harvest in June of 2019. "Cool!" But what does that mean, exactly?" is the response I get.
Now begins the slow and careful process of letting the bees eat all of their stores and then relocating them one by one to a new hive next door. Once the honey is gone, and then the bees, I will pull off each plate to reveal the radial comb patterned sculpture beneath.
"Will this hurt the bees?" Nope. I'll use a process called a "cone extraction", which is commonly used to humanely extract hives from places where they aren't wanted. Google it for more info.
Headlands Center for the Arts, Open to the Elements
Documentation of performance at Headlands Center for the Arts during Open to the Elements Workshop, where we created a ritual ceremony to honor HCA co-founder and bee-inspired artist Mark Thompson. This was my first project working with bees as an artist, and Mark was gracious enough to give me a critique when it was all over. His words of wisdom were to never forget that I am a steward to the bees first, and art comes second to their well-being. I have taken his words to heart with everything I do.
As a beekeeper, I was informed on how bees build and repair comb in the wild by performing extractions where I relocate hives from buildings and structures where they aren't wanted into proper hive boxes where colonies can be managed. This extraction took place at Bloomfield farm in Petaluma, and was one of two hives in an old barn that I rescued that day. In this photo I'm using rubber bands to secure brood comb until the bees can repair it and attach it to the wooden frame.
Photo by Gillian Bostock Ewing
The ability to observe bees in a hive with minimal disturbance has allowed me to keep bees in a way that is most conducive to our mutual relationship. My experimentation allows me to better understand the boundaries of bee behaviour, with fewer casualties on both sides. Workshops have been hosted at my apiary at Bloomfield Farm in Petaluma, my home apiary in Sausalito, and my working apiary at The Woolly Egg Ranch, all in Northern California.
I've also written a series of tutorials on basic beekeeping.
Photo by Caley Morrison